Our Process
We believe having a guide through the financial planning process is better than trying to do it alone. Just as they would rely on their GPS to navigate the roads of life, our clients count on us as their financial navigators to help see them through the pitfalls and traffic jams of their financial lives.
First, we have an initial meeting with clients where we discuss their financial goals. After we agree to work together, we gather all data relevant to their current financial situation. Once we have collected the data, our team will spend time analyzing it and deciphering which strategies would be most useful in achieving their goals. We present these strategies to our clients, and once they choose the method they feel most comfortable with, we implement those strategies.
Just as a GPS is still available for use after a destination has been reached, we stay with our clients throughout their journey and will review and monitor any financial plans they have in place, on a periodic basis.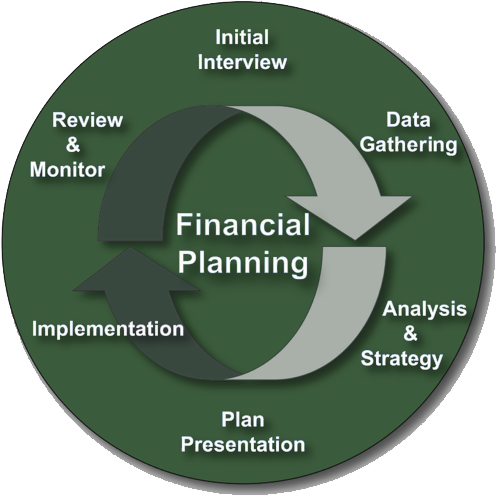 Step 1: Initial Interview
Our process begins with an initial interview. This is a no obligation meeting where we get to know each other. We ask you about your goals and dreams, your financial history, your biggest fears, and your expectations of our relationship. We also take a look at your current financial position. At the end of this meeting we all decide whether or not it makes sense for us to work together. If it does, we determine which areas of financial planning will be covered in your personal financial plan and your fee level is set. At this point, you have hired us (and Eagle Strategies) to provide you with objective written financial advice and an analysis of your situation.
Step 2: Data Gathering
The next step in the process is called data gathering. We collect all of your financial data and make sure we understand what you have, why you have it, and whether you are happy with it.
Step 3: Analysis & Strategy
After data gathering, our team analyzes your current situation and determines the best possible ways to achieve your goals. Sometimes your goals will not be realistic and we will need to make adjustments. It is at this point where we begin to discuss various strategies available to accomplish your goals.
Step 4: Plan Presentation
After our analysis and strategy session, we are ready for a plan presentation. This is where you are provided with an objective written financial plan. The plan will contain recommendations and an action plan for achieving your goals. However, even the best financial plan is worthless unless you take the steps necessary to implement the advice. But don't worry, we are with you every step of the way, acting as your financial guides and helping to keep you on track.
Step 5: Implementation
We'll implement your strategy, and work closely with you and your other third party professionals to ensure its success. We'll monitor progress and provide ongoing service as your needs and situation change over time.
Step 6: Review & Monitor
Planning is not a one-shot deal. Strategies need to be adjusted periodically as your life and the economy changes. We will work with you over the years to help keep your program on track with your changing needs.
Neither Horizon Wealth Strategies, its staff nor Eagle Strategies LLC or its advisors or affiliates provide tax, legal or accounting advice. Please consult your own tax, legal or accounting professional before making any decisions.